Kolibri Web
Kolibri-Web consists of the following components:
Kolibri-WebCrm
Kolibri-webCrm supports sales and service activities at the customer's site or on the go.
Kolibri-webCrm is the tool that supports you comprehensively in customer acquisition and facilitates the maintenance and expansion of business relationships. A demo version is available at webCrm-Demo with the user demo and password demo.
The most important functions of Kolibri-webCrm at a glance:
User Interface
Kolibri-Web only requires only a minimal setup for use. This is made possible by a browser-based user interface that can be displayed on all end devices from cell phones to PCs that support a modern browser. The user interface can be customized to your own wishes in a variety of ways, including individual forms.
A separate app is provided for integration in Android® that supports the full functional range of web-Crm. With the option to choose various combinations of authentication methods, up to a secured two factor authentication. Scheduling can be simplified by integrating additional calendars into the display.
We also offer another Android® app for effortless processing of barcodes with web-Crm e.g. to create and process QR-codes to manage contacts. It also offers the option to implement Warehousing tasks like removal or iventory with standardized hardware.
The areas of web-Crm can be found in Kolibri-ERP, so your entire company can build on a uniform database.
Permissions
The information shown can be configured via authorizations so that the required data is quickly accessible. The various links enable you to navigate between the information individually.
The Dashboard
The Kolibri-webCrm dashboard allows a quick overview of the required information in one step. It can be designed with individual views and allows the desired information to be specifically selected using filters.
The graphics are interactive and allow access to further information as well as drilldown functionalities (e.g. from annual sales to monthly values). The result is an easy-to-see working environment with quick access to your data.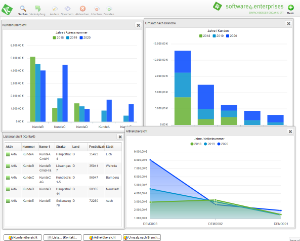 webCrm - Dashboard
Address Management
The address management allows you to concentrate on your customers by providing the relevant information effortlessly, for example through an individually adaptable filter function, a configurable list view and structured information areas that contain, for example, a graphical sales overview for each item.
Map view is supported for address lists and optimized navigation for Google®. Any number of contact persons can be assigned to the main addresses for further structuring of the data.
The maintenance of the master data or the design of reports is also easily possible in Kolibri-webCrm.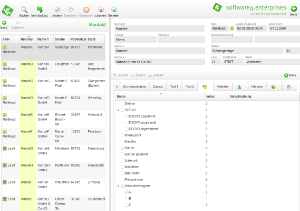 webCrm - Addresses
Searching
The search function makes it possible to compile the desired fields in a view, to select the search operator, for example "Equal to", "Begins with" or "Between" and thus to be able to easily call up the required data. In addition, it is also possible to select the linking of the search fields with "And" and "Or" in order to carry out more complex searches.
When selecting values, you will be supported in many places in Kolibri-webCrm with interactive search lists that allow a quick insight into existing data. A visual full text search and also a phonetic search are possible.

webCrm - Search
Calendar
When organizing appointments and other activities, a calendar overview should not be missing. In Kolibri-webCrm you can easily get an overview and plan appointments. Group appointments can also be effortlessly coordinated with the calendar.
In the planning, appointments can be postponed as well as extended or shortened.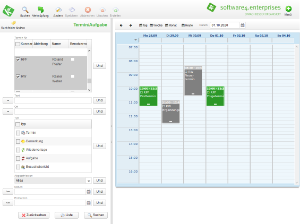 webCrm - Calendar
In addition to the calendar overview, a list view is also available if an individual selection of the displayed fields is desired or a direct display of details.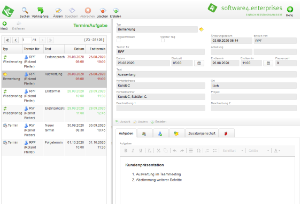 webCrm - Calendar details
Project Management
Project management is integrated in Kolibri-webCrm, which enables you to maintain and coordinate projects. In addition, the evaluation according to different criteria is possible, as is the conversion of the recorded times into documents.
Equipment
In order to support your service technicians at the customer's, device data can be called up and maintained in Kolibri-webCrm. This saves the time required to enter the service data, and the information is always up-to-date. There is a link to the spare parts catalog, for calling up the service data, as well as a possibility to transfer the spare parts items to a document.
Supporting Documents
A document management system is integrated in Kolibri-webCrm, which allows viewing and processing of offers, order confirmations, delivery notes, invoices and credit notes.
Products
In the article view, article data can easily be viewed in order to have the information you need available for advice at any time. Discounts, documents, warnings and a visual sales overview sorted by customer are integrated. The application can also be used as a mobile terminal for simple warehouse tasks.
Production Orders
Production orders can be viewed and debited here. The search for various criteria is supported in order to give mobile teams a simple overview of the tasks at hand.
Time of day recording is also integrated. This offers you an ideal opportunity to record times on the move. Production items can also be booked and expenses recorded (with location-coordinates if desired).
Documents
The integrated document management allows the required information to be available in every situation as if it were at your own desk. The maintenance and creation of documents with the link to various reference data is also possible here.
In the mail management integrated in Kolibri-webCrm you can easily archive mails as documents.
Online Catalog
The catalog allows service data to be presented in an interactive and multimedia way so that your customers can easily access the service information they need. The accessibility is increased by the support of different languages. A demo version is available under the online catalog demo (further functions are available with registration, e.g. via a portal. Real images are also possible for the configurator.).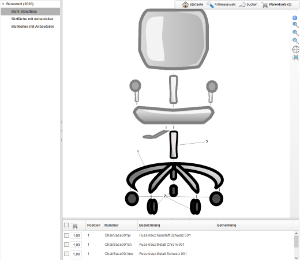 Spare parts
The display takes place through adaptable drawing views, alternatively a 3D representation is supported. A full text search is integrated, which makes it easier to find parts across the entire structure. Subsequent ordering of spare parts is also easy with the online catalog.
A separate app is provided for integration in Android®. This app simplifies the access to the online catalog, e.g. by logging in with a fingerprint.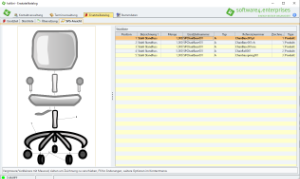 Svg edit
In Kolibri, drawing data can be annotated and prepared for display in the online spare parts catalog.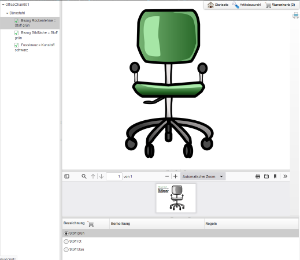 Configurator
The online catalog also supports the interactive configuration of new components with an interactive display.
Presentation
Connection of web shop systems
With the connection to Shopware® you receive a solution that allows a simple optimization of your sales processes as well as a later expansion for the handling of complex procurement and production scenarios.
Online Warranty
The online warranty supplements the Kolibri warranty module with web functions so that service partners and customers can view the current status of their warranty claims. It is also possible to record and interactively add service cases.
---
* CRM Customer Relationship Management
---